Woman of the lens

I can hardly remember when I first started taking photographs. I certainly was very young then. The abiding memory of my experience with a camera those days is one of wonder, excitement and sheer fun, a sense of great enjoyment. It has not changed much over the years. I am sure I miss seeing a lot of things happening around me when I am in the mood to take photographs. But what I have missed more are the many memorable moments I have not been able to capture because of the absence of a camera ready at hand when it mattered.
I often use the camera instinctively. I love photographing things that please my eyes and my mind. I have no particular preferences for color or for forms, be they abstract or figurative. I let my fancy lead me, as long as the subjects appeal to my senses.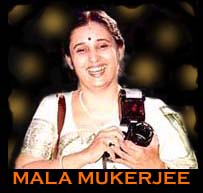 Mala's affair with the camera started at a very young age. Born in a family of photo -
enthusiasts, she has dabbled in various themes but with a pronounced preference for portraiture. Although she retains her fondness for the figurative, her recent work has tended towards exploring the abstract.





Education:

B.Sc. Physics Honors, Calcutta University
Certificate course in Fine and Applied Art- Photography, City of London Polytechnic, London
Diploma in Art and Design Studies (DADS) Photography, London Guildhall University
Professional Assignments :

Has done work for various periodicals and publications such as
Desh, Discover India, Femina, Hindu, India Magazine, Indian Express,
Inside Outside, Parsiana, Reader's Digest, Times of India, Signature,
Swagat (Indian Airlines), etc. in India.
A book on Swami Dayanand published by TTK Publications Ltd. In the UK she has done assignments for The BBC, The Cricketer and the India Weekly.Mala is also part of an expert panel attached to Sitagita.com
Exhibitions held:

1991 - 1993

Group Exhibitions at :
Hays Galleria, London
Waterfront Gallery, London
City of London Polytechnic, London
London Guildhall University, London
Thomas Nael's Centre, Covent Garden, London
College Hill Open Exhibition, 'The Face of The City', London

Solo Exhibitions at :
Cottons Centre Atrium, London
Seven Star Public House, London
St.Giles Church, Oxford

1994 - 1996

Solo exhibitions at :
Sakshi Gallery, Bangalore
Y.B.Chavan Centre Art Gallery, Mumbai (Bombay)
British Council Division Gallery, Mumbai (Bombay)
Sakshi Gallery, Chennai (Madras)
Birla Academy of Art and Culture, Calcutta
Nehru Centre Art Gallery, Mumbai (Bombay)
Piramal Gallery, CPA, Mumbai (Bombay)

Group Exhibition at :
Jehangir Art Gallery, Mumbai - 'Women '96', an Art Front Show.

In 1993, Mala was the recipient of The Owen Rowely Art Prize, awarded by the Owen Rowely Art Foundation, London. She was amongst the prize winners in "Our Big City" Competition organized by The Evening Standard and Carlton Television, London.
1997
Solo Exhibition at :
www.internetindia.com/ashowkase.
Lalit Kala Akademi, New Delhi.
Group Exhibition at :
Nehru Centre Art Gallery, Mumbai.
(In 1997 Mala was nominated for the Leoplod Godowsky Jr. colour photography award held at the Photography Resource Centre,Boston.)


1998
Solo at India International Centre, Delhi
Group at Y.B Chavan Art Gallery.
1999
Solo at Lalit Kala Madras, 22 to 27 Feb.
Solo at Nehru Centre Art Gallery, May.

2000
Solo at La galerie de l'Alliance Franšaise de Dhaka, 17th to 26th November.
2001
Group at Academy Of Fine Arts Calcutta, March 2001.
Solo at Birla Academy, 10th April 2001.
Group show to be held in London at the London Guildhall University, from
22nd October to 2nd November 2001.
2002
Solo Exhibition at Gallerie Zen, Bangalore, from 1st February to 20th
February 2002
Solo exhibition at Academy of Fine Arts, Kolkata, from 22nd February to 28th
February 2002.